New Google Cloud Platform Apps
Today, Sumo Logic is proud to announce that we have released 11 brand new Google Cloud Platform (GCP) applications to the existing Sumo Logic App Catalog. We continue to see momentum and adoption of multiple cloud providers by our customers and this release reinforces our commitment to providing our customers with continuous intelligence of their business regardless of where their applications modern and cloud infrastructure data reside — from Amazon Web Services (AWS) to Microsoft Azure to Google Cloud.
Sumo Logic is the first in our industry to release a comprehensive set of applications for GCP. What's more is that we've created the ultimate GCP starter kit for your organization and have added all GCP app integrations as native connections, meaning it's now easier than ever for customers to integrate these GCP apps from directly within the Sumo Logic platform.
Read on if you want to know more about how Sumo Logic helps you monitor and secure your GCP stack.
The new GCP apps are now available via the Sumo Logic App Catalog, and include support for:
Google App Engine: Understand platform activity, incoming requests, applications, HTTP status codes, and latency and response times in your App Engine to get ahead of serious issues before they affect users.
Google BigQuery: Proactively manage and troubleshoot your Google BigQuery data warehouse for deep operation insights, query optimization and enhanced user activity.
Google Cloud Audit: Empower your audit and compliance needs by monitoring and tracking user, administrative and authentication activity for a real-time analysis of all audit streams across GCP.
Google Cloud Functions: Leverage pre-configured dashboards and searches for deeper visibility into the overall usage, executions, operations, latency, errors, outliers and failures of your Google Cloud Functions environment.
Google Cloud Identity & Access Management (IAM): Monitor Google Cloud IAM project activities, operations, role activities, role and policy changes, and IAM messages to analyze changes, share critical data and secure your environment.
Google Cloud Load Balancing: Use pre-configured dashboards to monitor load balancing activity and get full insight into request locations and volume, response codes, and request and response data by load balancer.
Google Cloud SQL: Easy-to-deploy pre-configured Sumo Logic dashboards provide insight into created and deleted resources, messages, authorization failures, user activities and error logs for all Google Cloud SQL activity.
Google Cloud Storage: Continuously monitor and troubleshoot activity in Google Cloud Storage for insights into request locations, bucket and object operations, user activities, errors, and bucket statistics.
Google Compute Engine: Monitor your infrastructure to visualize the activities, users, and message severity of your Google Compute Engine, the Infrastructure as a Service (IaaS) component of Google Cloud Platform.
Google Kubernetes Engine: Gain node-level and pod-level monitoring information for deeper operational insights, container optimization, and security and compliance of your Kubernetes environment to better manage potential risks and threats.
Google Virtual Private Cloud (VPC): Leverage interactive, customizable dashboards with outlier detection to trace unusual traffic patterns and suspicious activity for VPC flows and gain real-time insights and analytics into network activity for GCP-generated log data.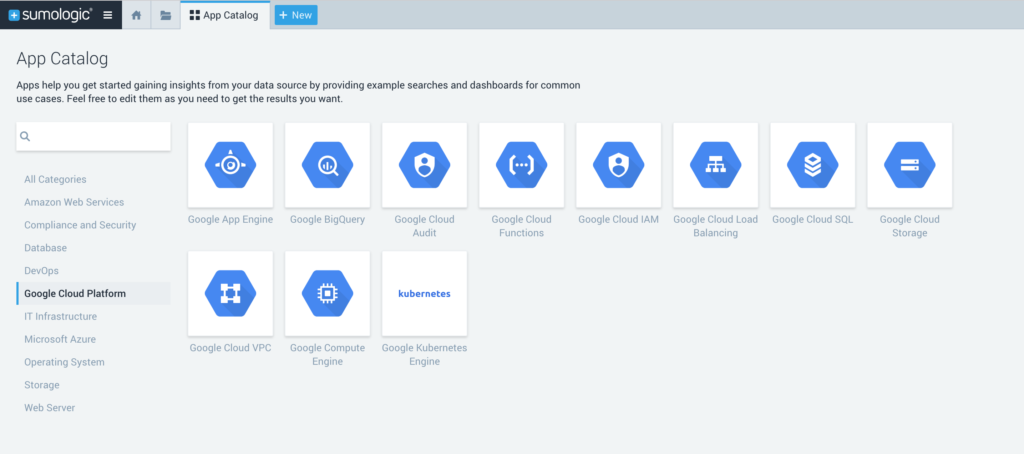 Monitor and Secure GCP Stack with Sumo Logic
Monitoring any public cloud in real time is challenging, and the same goes for Google Cloud Platform (GCP). Here are some key monitoring challenges:
No insight into who is doing what, when and where
No visibility into the configuration and resource changes being done
Lack of actionable insights
Limited co-relation rules & data visibility into resource lifecycles, operations and users actions
No one to assist you and alert your team of anomalies
No correlation capability between service/application/project logs and metrics
Lack of end-to-end monitoring and troubleshooting experience
Sumo Logic Integration with Google Cloud Platform
This expanded support enables our GCP customers to improve monitoring, detection and alerting on operational issues, accelerate troubleshooting and root cause analysis, as well as ensure compliance with regulations such as General Data Protection Regulation (GDPR), Health Insurance Portability and Accountability Act (HIPAA), Payment Card Industry Data Security Standard (PCI DSS), Sarbanes-Oxley Act (SOX), among others.
It also delivers real-time, threat-aware security analytics that facilitate powerful security incident investigations for all applications and GCP infrastructure — all with the goal of improving operational and security visibility to deliver the ultimate customer experience.
Here is an example of sample dashboards showing some of the insights available to you: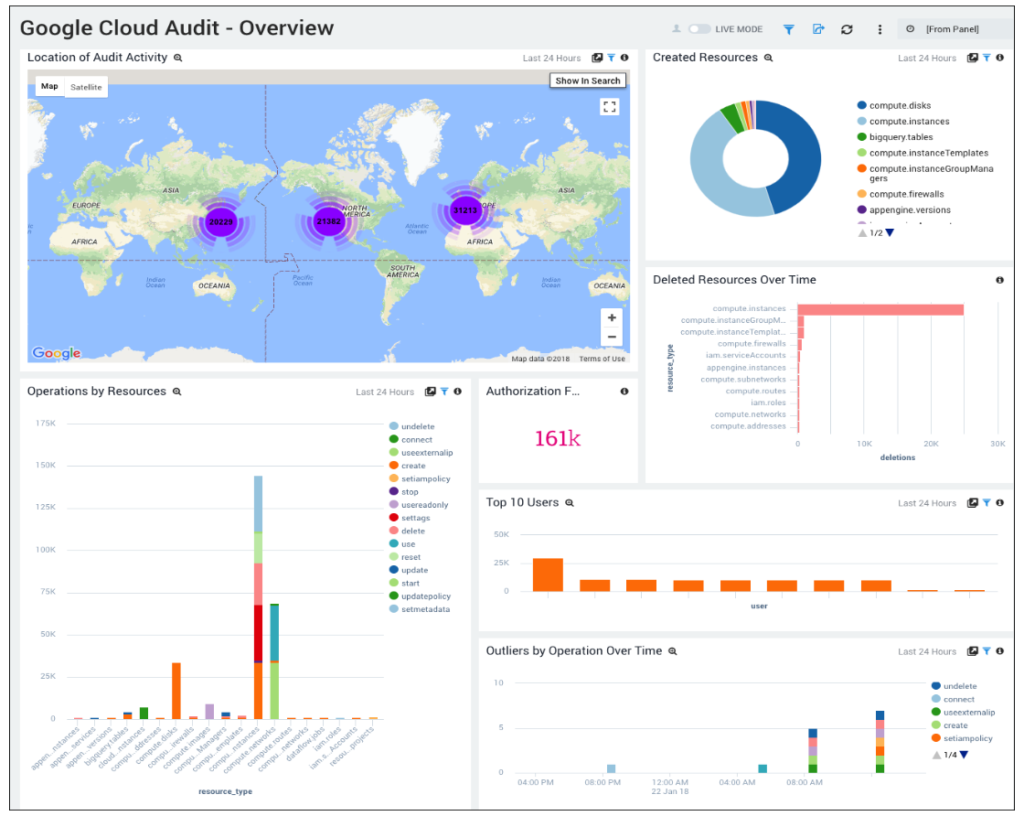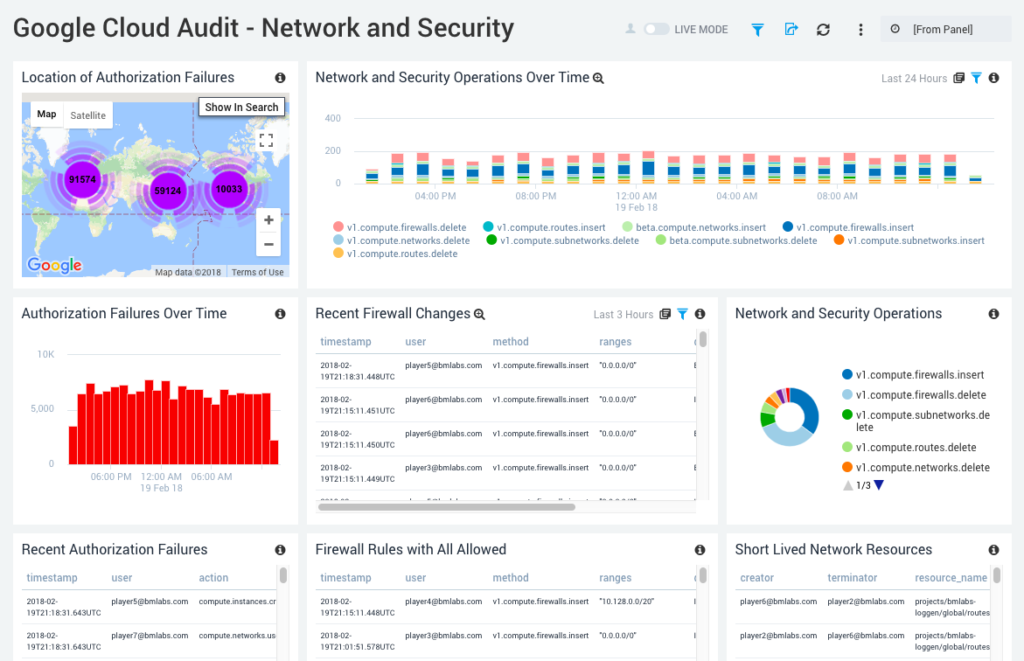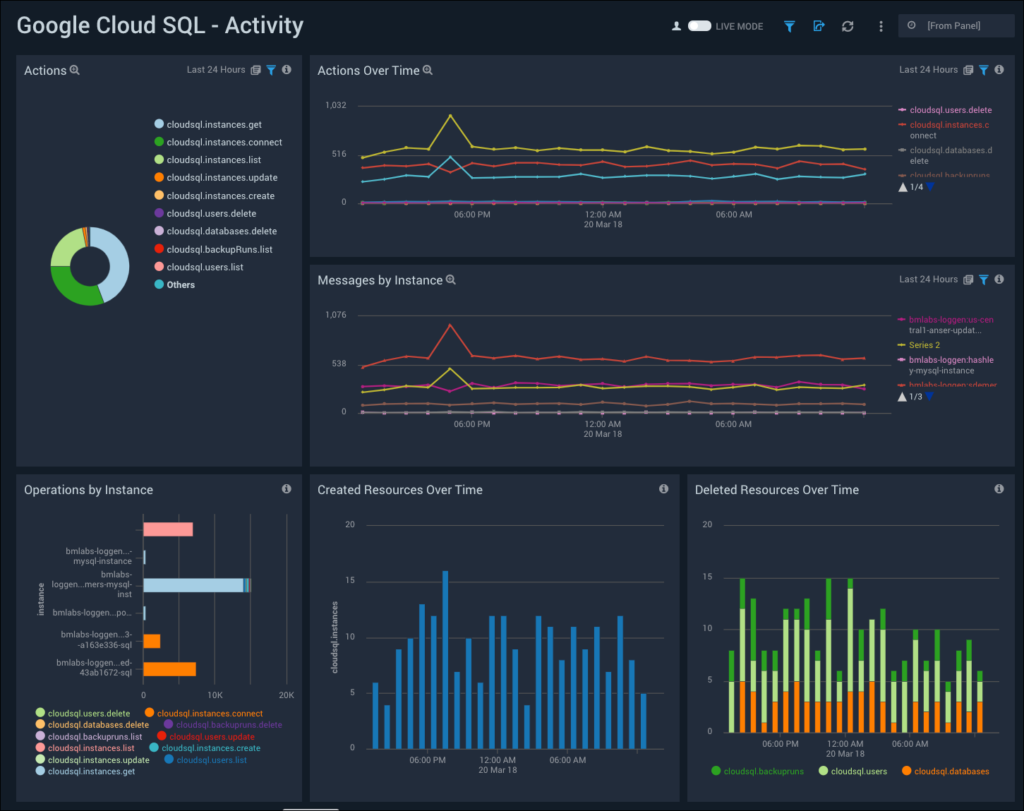 Sumo Logic provides an out-of-box app to monitor your GCP projects. The app uses Google Cloud Audit Logs. These logs track events on multiple GCP services, including Compute Engine, IAM and App Engine.
To get started, follow steps provided here.
Why Multi-Cloud Support Matters
Now more than ever, customers are demanding flexible and scalable solutions that support their unique business, security and operational needs that span across multiple cloud platforms. When an organization invests in a machine data and security analytics platform, they shouldn't have to be worry about where their modern applications and data reside, they should be able to gain continuous intelligence regardless of their cloud environment(s).
We know from year-over-year data in our State of the Modern Applications in the Cloud report that our own customers are adopting multiple cloud platforms and that this trend is increasing each year. That's why the Sumo Logic platform is purpose built to provide flexible and scalable enterprise-class support for all AWS, Azure and GCP to detect, troubleshoot and help rapidly investigate operational and security incidents that give users real-time actionable intelligence.
Want to Know More?
For more information on how to transform GCP machine data into critical business, operational and security insights, visit the Sumo Logic GCP solutions page or read the latest press release.
If you already have Sumo Logic account then GCP app is available for free to use. If you are new to Sumo Logic, then start by signing up for a free account here.
Additionally, we're at the Google Next 18 conference this week (July 24-26) in San Francisco, so stop by our booth (W1625) to say hello, and stay tuned for more announcements around Sumo Logic GCP capabilities.
Complete visibility for DevSecOps
Reduce downtime and move from reactive to proactive monitoring.