Today at Sumo Logic, we're excited to announce that registration as well as call for speaker papers are open for
our annual user conference Illuminate 2018! For those that did not attend last year or are unfamiliar with Illuminate, it's a two-day event where Sumo Logic users and ecosystem partners come together to share best practices for shining the light on continuous intelligence for modern applications.
Illuminate 2018 takes place Sept. 12-13, 2018 at the Hyatt Regency San Francisco Airport Hotel in Burlingame, Calif., and registration details can be found on the conference website under the frequently asked questions (FAQ) section.
Why Attend?
The better question is why not? Last year, the conference brought together more than 400 customers, partners, practitioners and leaders across operations, development and security for hands-on training and certifications through the Sumo Logic Certification Program, as well as technical sessions and real-world case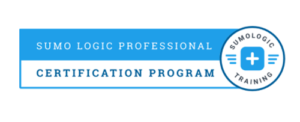 studies to help attendees get the most out of the Sumo Logic platform. You can register for Illuminate 2018 here:
The 2017 keynote was chock-full of interesting stories from some of our most trusted and valued customers, partners and luminaries, including:
Ramin Sayar, president and CEO, Sumo Logic
David Hahn, CISO, Hearst
Chris Stone, chief products officer, Acquia
Special guest Reid Hoffman, co-founder of LinkedIn; partner of Greylock Partners
You can watch the full 2017 keynote here, and check out the highlights reel below!
Interested in Speaking at This Year's Conference?
If you've got an interesting or unique customer use-case or story that highlights real-world strategies and technical insights about how machine data analytics have improved operations, security and business needs for you and your end-users, then we'd love to hear from you!
These presentations must provide a holistic overview into how today's pioneers are pushing the boundaries of what's possible with machine data analytics and developing powerful use cases within their industries or organizations.
Still on the fence? Keep in mind that if your session is accepted, you'll receive one complimentary registration to Illuminate as well as branding and promotional opportunities for your session.
More on Topics, Requirements & Deadline
To make it easier on our customers, we've compiled a list of desired topics to help guide you in the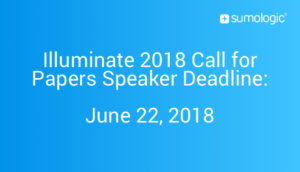 submission process. However, this is not an exhaustive list, so if you have another interesting technical story to tell that is relevant to Sumo Logic users and our ecosystem, we'd love to hear it.
The Journey to the Cloud (Cloud Migration)
Operations and Performance Management of Applications and Infrastructure
Operations and Performance Management for Containers and Microservices
Best Practices for using Serverless Architectures at scale
Cloud Security and Compliance
Best practices for implementing DevSecOps
Sumo Logic to Enable Improved Customer Support/Success
Unique Use Cases (I Didn't Know You Could Use Sumo to…)
Best Practices to Adopting and Leveraging Sumo Logic Effectively within your Organization
Regardless of topic, all submissions MUST include:
Title
Brief Abstract (200-400 words)
3 Key Audience Takeaways or Learnings
Speaker Bio and Links to any Previous Presentations
The deadline to submit session abstracts is June 22, 2018. Please email submissions to sumo-con@sumologic.com.
Examples of Previous Customer Presentations
Last year, we heard great customer stories from Samsung SmartThings, Hootsuite, Canary, Xero, and more. Here are a few customer highlight reels to give you examples of the types of stories we'd like to feature during Illuminate 2018.
Final Thoughts
Even if you aren't thinking of submitting a call for paper, we'd love to see you at Illuminate to participate in two full days of learning, certification and trainings, content sharing, networking with peers and Sumo Logic experts, and most importantly, fun!
You can register here, and as a reminder, call for papers closes June 22, 2018!
Together, we can bring light to dark, and democratize machine data analytics for everyone. If you have any additional questions, don't hesitate to reach out to sumo-con@sumologic.com.
Hope you see you there!