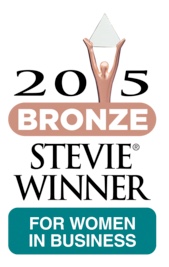 We're very excited to announce that Sumo Logic's CISO and VP of Security, Joan Pepin, was recognized by the Stevie® Awards for Women in Business as a Female Executive of the Year in the Business Services category. The final results of the 12th annual Stevie Awards for Women in Business were announced this week at a dinner in New York City.
Joan has been an outspoken advocate for cultivating a diverse workforce, particularly around bringing more women into the security fold. She's led by example through her own accomplishments in the field – from developing methodologies for secure systems, to assessing whether a network is undergoing an attack, to inventing SecureWorks' Anomaly Detection Engine and Event Linking technologies.
Joan got her start in the field by parlaying her knack for hacking with her college friends into consultancy gigs. Her technical chops, tenacity, passion and "forward-thinking empathy" approach to leadership led to management roles where she drove policy management, security metrics and incident response initiatives at SecureWorks.
Since joining Sumo four years ago, Joan's been more than an executive – she's been a foundational anchor. As one of our first employees, Joan ensured that data security was integral to the product and a high priority for every engineer and architect that worked on it. Thanks to Joan, security is baked into our culture too, meaning that everyone understands their roles in protecting company data and takes it seriously. The data security of Sumo Logic is so well-respected that Joan regularly consults with customers on compliance and strategies for successfully meeting the ever-evolving security standards. She's also helped spearhead the cloud-first approach that's become a critical differentiation point for our business.
It's safe to say that Joan's come a long way from hacking in her college dorm. We're honored to celebrate Joan's recognition as an industry leader and advocate for women in technology.